Coronavirus COVID-19
27 March 2020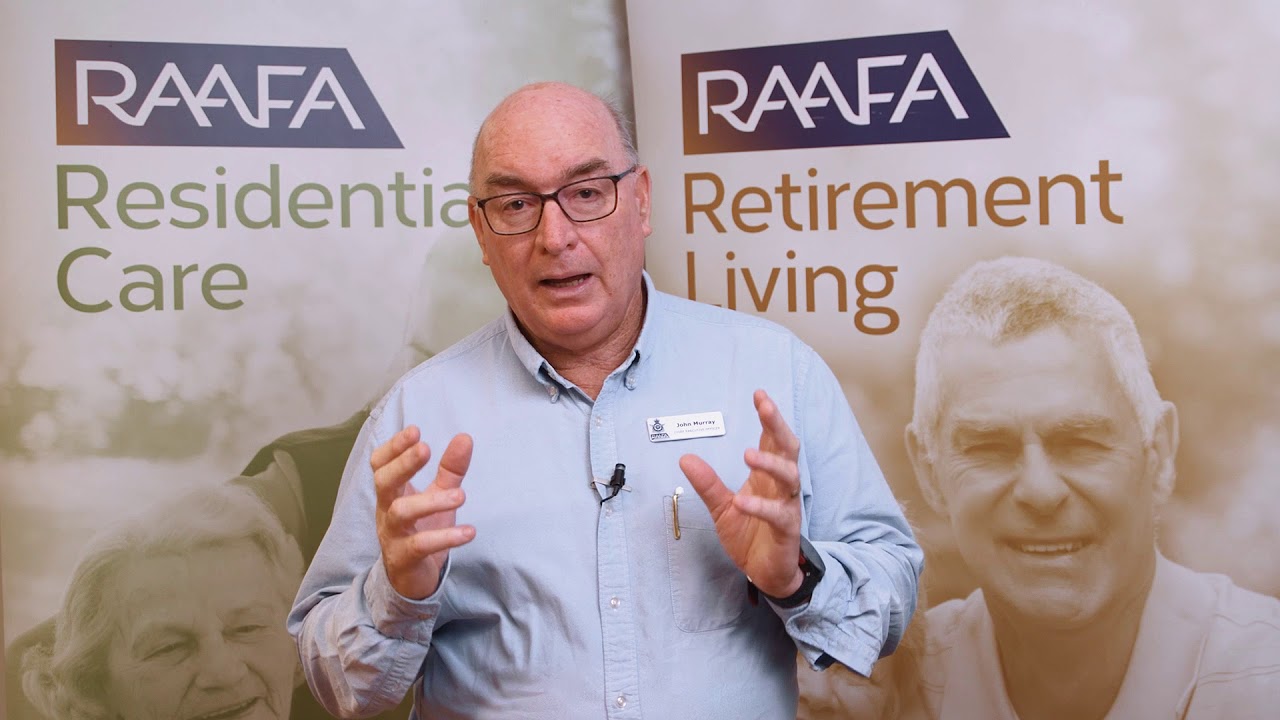 (click to watch video)
As a retirement and aged care organisation, the health and wellbeing of everyone who uses our services is our priority. We understand that COVID-19, or coronavirus, is highly contagious and the people most at risk are the elderly, those diagnosed with chronic medical conditions and people with compromised immune systems.
We wish to re-assure all residents and their loved ones that we have a detailed action plan, firstly to help prevent the coronavirus entering our facilities and/or in the event of a potential outbreak, to minimise the transmission from person to person.
We will continue to keep you updated on a regular basis about how RAAFA is responding to COVID-19 Coronavirus. As the situation is changing rapidly with new information released regularly by the Government, we will endeavour to include updates to this page as soon as possible.
Residential Aged Care Guidance and Updates
Guided by the Australian Government, RAAFA's actions in response to the key government directives for Residential Aged Care are:
Restricted Visiting:
From 24 March 2020 and until further notice, all visitors are restricted from entering our Residential Care homes unless there are exceptional circumstances. We appreciate these measures are stringent however, we are confident that they are necessary to protect the health and wellbeing of our residents, staff and community. RAAFA will continue to review this decision on a regular basis.
Anybody who has not been vaccinated against influenza by 1 May 2020 will not be able to enter the facility
Retirement Living Guidance and Updates
As advised by the Government, anyone returning from overseas or interstate must self-isolate for 14 days. If you recently returned from overseas or interstate or have been in contact with people who have recently travelled overseas, please advise the Estate Manager as soon as possible.
Avoid high risk situations such as large gatherings and meetings. Unfortunately, as a precautionary measure this will result in cancellations of meetings and events on site.
Administration, reception and resident support services will be available via phone or email or drop the appropriate form or note in our letterbox.
Do not enter any of the estate buildings if you have any signs of illness, including fever, cough, shortness of breath or a sore throat and seek medical attention.
Wash your hands:

before entering the estate;
before and after touching another person;
before and after handling food; and
before leaving the estate.

Refrain from touching, hugging or kissing other people if you are not feeling well.
We strongly recommend that residents do not have visitors to the estate unless absolutely necessary.
Access to all communal areas and facilities has been closed.
We request that no children under the age of 16 visit the estate.
Other Services
Central Support Office services are available via phone or email
RAAFA Connect offers modified services and are available via phone or email to discuss
Unfortunately our beloved Aviation Heritage Museum is closed
Thank you for your assistance and patience in adhering to these measures. We appreciate these measures are stringent, however they will greatly assist RAAFA to protect the health and wellbeing of our residents, staff and community.
If you have any questions or concerns please call (08) 9288 8400 or email covid19@raafawa.org.au Monday to Friday, 8.30am to 4pm.
Please visit www.health.gov.au
for further information or contact National Coronavirus Help Line on 1800 020 080